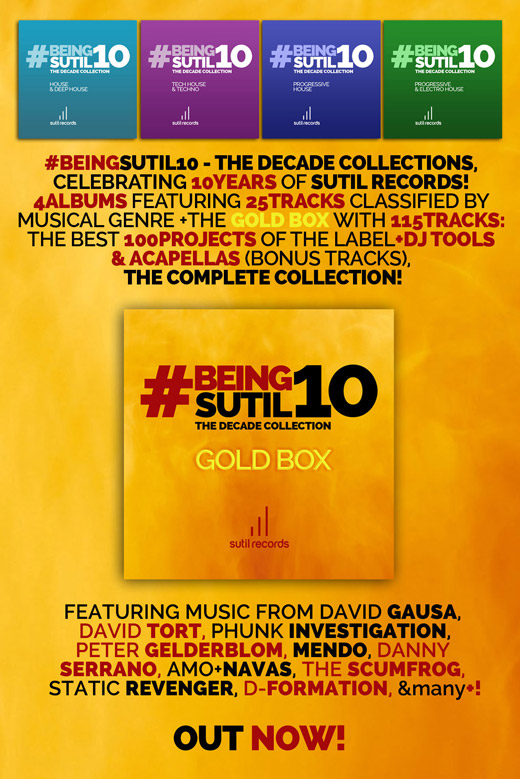 SUTIL RECORDS releases five essential commemorative collections to celebrate the label's 10th anniversary, #BEINGSUTIL10th - THE DECADE COLLECTIONS. To celebrate SUTIL's first decade, four albums classified by musical genre are released: House & Deep House, Tech House & Techno, Progressive House and Progressive & Electro House. Each collection consists of 25 tracks, and there's an exclusive GOLD BOX edition with 115 tracks, featuring the best 100 projects of the label, plus the best Accapellas and DJ Tools, all at very special prices!

You can get the GOLD BOX on iTunes; http://smarturl.it/SutilGold
Also available on Beatport: http://bit.ly/GldBp
And on all major download stores of the planet

Keep reading for the Soundcloud sampler audios, the music-videos on YouTube, and more info.


Artists such as DAVID GAUSA, DAVID TORT, STATIC REVENGER. THE SCUMFROG, PHUNK INVESTIGATION, MENDO, DANNY SERRANO, JULIO NAVAS, DAVID AMO, D-FORMATION, PETER GELDERBLOM, SIMON GARCIA & SHAKER, INKFISH, NICK & DANNY CHATELAIN, PAUL JACKSON, DAVID GRANHA... among many others, and singers as BARBARA TUCKER and SHENA are included on these albums, showcasing the best music from the label over the last decade.

#BEINGSUTIL10 (THE DECADE COLLECTION), a must-have pearl in your record collections!




Grab the HOUSE & DEEP HOUSE volume on:
iTunes; http://smarturl.it/BShdIT
Beatport: http://bit.ly/BsHdBp



You can get the TECH HOUSE & TECHNO album on:
iTunes; http://smarturl.it/BSttIT
Beatport: http://bit.ly/BsTtBp




Grab the PROGRESSIVE HOUSE collection on:
iTunes; http://smarturl.it/BSprIT
Beatport: http://bit.ly/BsPhBp




You can get the PROGRESSIVE & ELECTRO HOUSE volume on:
iTunes; http://smarturl.it/BSpeIT
Beatport: http://bit.ly/BsPeBp


You can also hear and see the artwork of the project through YouTube videos:





It's 10 years since the label's first release, signed by the head honcho DAVID GAUSA and featuring the voice of his colleague STATIC REVENGER, and five years since their fifth anniversary album 'I AM SUTIL, WE ARE 5'.

SUTIL RECORDS started life focusing on Progressive & Tribal House, and has now developed into firmly established Deep & Tech House label. It has showcased many styles along the way, and always been a trendsetter; never copying but creating its own sound reflecting the new styles and ideas in electronic music.

The label has never lost its spirit, whether championing the underground or moving closer to quality mainstream music from Deep to Tech and from Electronic to more organic sounds. SUTIL has always maintained its credibility and respected image providing DJs with strong and solid music to play in their sets. This is a label made by a DJ with music destined for DJs who share his passion, the same passion for the music of us!

Big thanks to all of you for these 10 years, looking for 10 more!!