DAVID GAUSA presents
SUTIL SENSATIONS RADIO / Nº#358
7 FEBRERO 2019 / FEBRUARY 7th 2019

El 1er show de 2019! / The 1st show of 2019!


Michael Bibi 'Hanging Tree' - Repopulate Mars
Gorgon City 'Lick Shot' - Realm
Jack Back '(It Happens) Sometimes' (David Penn Remix) - Defected
Catz 'n Dogz 'New Love' (Gerd Janson Remix) - Pets Recordings
Eddie Thoneick & Kurd Maverick feat. Errol Reid 'Lonely' - Spinnin Deep
Solardo 'Tango Wango' - Ultra
The Chemical Brothers 'Got To Keep On'
(taken from forthcoming 'No Geography' artist album) - Virgin EMI/Astralwerks

Leer Mas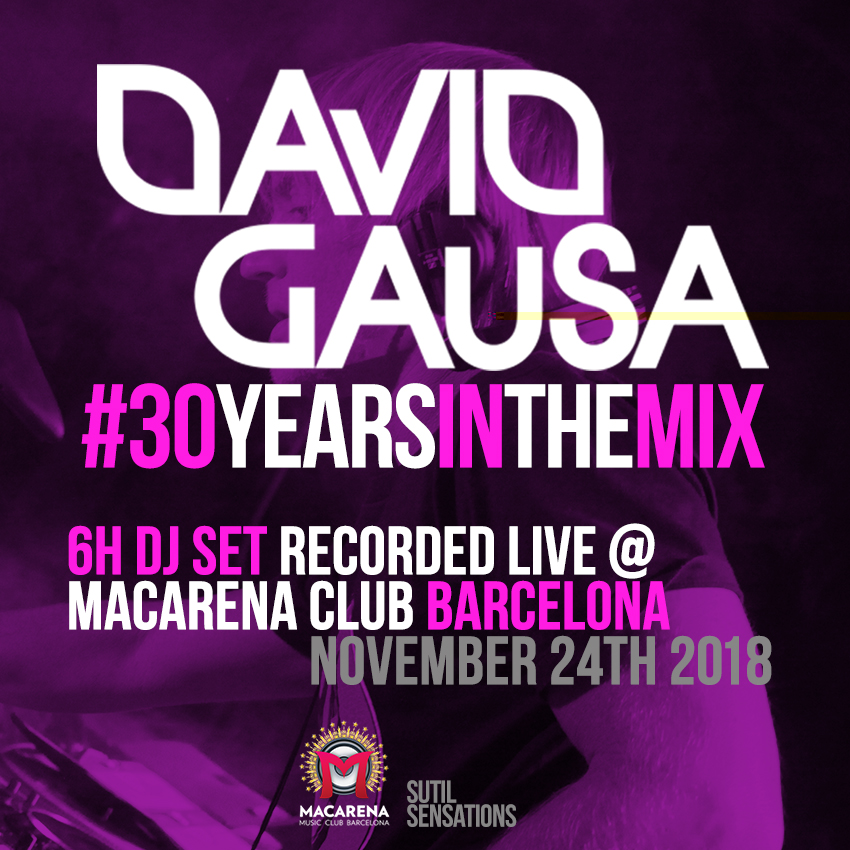 El pasado sábado 24 de Noviembre de 2018, DAVID GAUSA celebró sus 30 años como DJ realizando un DJ set en vivo de 6 horas de duración llamado #30YEARSINTHEMIX - 1988/2018 en el legendario MACARENA CLUB BARCELONA. Una sesión

que se inicia con una selección de grandes clásicos, y evoluciona fusionando sonidos actuales con algunos de los clásicos que más le han influenciado durante su trayectoria.



Tal y como prometió en su programa de radio SUTIL SENSATIONS, hay sorpresa en relación a este DJ mix..., ahora quiere compartirlo y regalártelo!

360 minutos de tremendos #HotBeats y muuuuuuucha #CanelaFina, sin duda un auténtico journey/viaje musical-aniversario ;-)
Press play & enjoy!

Escúchalo y plasma tu comentario a través de la página oficial de MIXCLOUD de DAVID GAUSA, y si lo deseas te lo puedes descargar a continuación!




También puedes escucharlo y dejar tu feedback en la página oficial de SOUNDCLOUD de DAVID GAUSA:






DAVID GAUSA presents SUTIL SENSATIONS
29 DICIEMBRE 2018 / DECEMBER 29th 2018

#LOMEJORDE2018 - Nuestra selección personal...
#BESTOF2018 - Our personal selection...








LOS TEMAS CLUB GANADORES DEL AÑO /
THE CLUB WINNERS OF THE YEAR
Prospa 'Prayer' - Stress - Track Of The Week on Dec 7th
Denis Sulta 'D_K_Y (But I Do)' - Sulta Selects
Adelphi Music Factory 'Javelin (Calling Out Your Name)' - Weapons/Eton Messy
Mella Dee 'Donny's Groove' - Warehouse Music
Melé 'The Beyonce' - Club Bad
Claptone ft. Ben Duffy 'In The Night'
(taken from 'Fantast' artist album) - Different - Track Of The Week on Jan 26th
PAX 'Electric Feel' - Glasgow Underground
OFFAIAH 'Private Show' - All Fire
Black Coffee & David Guetta feat. Delilah Montagu 'Drive' (Solardo Club Mix) - Columbia
Jack Back '(It Happens) Sometimes' - Defected
Ten Ven 'Just About' (Kideko Remix) - Positiva
Silk City & Dua Lipa 'Electricity' (Ten Ven Remix) - Columbia
Axwell 'Nobody Else' - Axtone
Oliver Heldens 'King Kong' (HI-LO Extended Touch) - Heldeep
Au/Ra & CamelPhat 'Panic Room' - Sony - Track Of The Week on March 23rd

Leer Mas
DAVID GAUSA presents
SUTIL SENSATIONS RADIO / Nº#352
5 OCTUBRE 2018 / OCTOBER 5th 2018


¡El primer capítulo de la 13ª temporada!!
Bienvenid@ a la temporada 2018/2019


RESUMEN DEL VERANO & IBIZA 2018!/
SUMMER & IBIZA 2018 MUSIC RECAP!



Weiss 'Feel My Needs' (Purple Disco Machine) - Toolroom
Young Romantic 'Move (Time To Get Loose)' - Positiva
Jack Back '(It Happens) Sometimes' - Defected
Mele & Shovel 'Pasilda' (taken from 'Melé In The House') - Defected
Rogue D 'Chains' - Hot Creations
Paul Woolford ft. Kim English 'Hang Up Your Hang Ups (The Only One)'
(CamelPhat Remix) - FFRR

Leer Mas

Siguiente