DAVID GAUSA presents SUTIL SENSATIONS
20 NOVIEMBRE 2014 / NOVEMBER 20th 2014

Especial #BeingSutil10 - The Decade Collections, los álbums del 10º Aniversario Sutil Records, y SLAM DJs invitados



Sir Sly 'You Haunt Me' (My Digital Enemy Remix) - Cherrytree/Interscope
The Cube Guys 'Hey You!' - X
Mason 'Exceeder' (UMEK & Mike Vale Remix) - Armada
Siege 'Things You Do' - Zerothree
---

#BeingSutil10 - The Decade Collection - Sutil Records
House & Deep House Album - Minimix


Leer Mas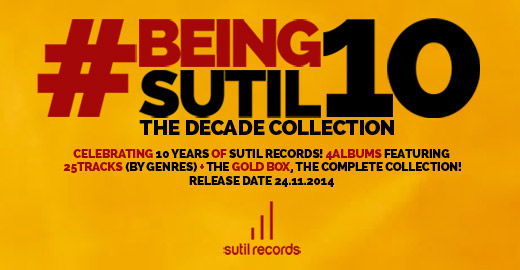 El lunes, 24 de noviembre de 2014, SUTIL RECORDS va a lanzar cinco colecciones conmemorativas esenciales para celebrar el 10º aniversario del sello, #BEINGSUTIL10th (THE DECADE COLLECTIONS). Han pasado diez años desde que se lanzara la primera referencia del sello, firmada por su creador DAVID GAUSA con el featuring de la voz de su colega STATIC REVENGER, y cinco desde que se publicara el állbum del 5º aniversario I AM SUTIL, WE ARE 5. Para celebrar la primera década de SUTIL, se van a lanzar cuatro álbums divididos por géneros musicales: House & Deep House, Tech House & Techno, Progressive House y Progressive & Electro House. Cada colección se va a formar por 25 piezas, y va a poderse adquirir una edición exclusiva llamada GOLD BOX con 115 tracks, incluyendo los mejores 100 proyectos del sello, además de las mejores Accapellas y DJ Tools, todos a precios muy especiales!

Artistas como DAVID GAUSA, DAVID TORT, STATIC REVENGER. THE SCUMFROG, PHUNK INVESTIGATION, MENDO, DANNY SERRANO, JULIO NAVAS, DAVID AMO, D-FORMATION, PETER GELDERBLOM, SIMON GARCIA & SHAKER, INKFISH, NICK & DANNY CHATELAIN, PAUL JACKSON, DAVID GRANHA... entre muchos otros, y vocalistas de la talla de BARBARA TUCKER and SHENA van a formar parte del tracklist de estos álbums, mostrando la mejor música del sello de la última década.

Sigue en contacto para los sampler audios en Soundcloud, music-vídeos en youtube y más info! #BEINGSUTIL10th (THE DECADE COLLECTIONS), pronto a la venta!

Mientras tanto, accede a la Sutil Shop aquí, y aprovecha nuestras ofertas especiales en todos nuestros productos!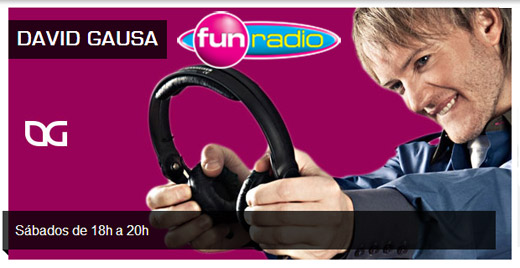 DAVID GAUSA
tiene el placer de anunciar que su radio show
SUTIL SENSATIONS
se va a emitir a partir de ahora en la renovada
FUN RADIO
en España (
www.funradio.es
), una de las marcas radiofónicas internacionales más importantes a nivel mundial. Tras haber estado emitiendo el programa en la desaparecida
LOCA FM
durante siete temporadas, ahora se reincorpora a la emisora dance de la península que se diferencia del resto por su programación musical con actitud clubber, con programas especializados realizados por profesionales que saben y viven la música electrónica.
DAVID GAUSA presents SUTIL SENSATIONS
, ahora también en
FUN RADIO
(
Alma de LOCA
). Escúchalo a partir del 8 de Noviembre de 2014, cada Sábado desde las 18 a 20h, y no dejes de suscribirte al Podcast en
iTunes, Soundcloud,
Tune In
o tu aplicación preferida mediante el
RSS feed
. ¡¡Y a disfrutar de la canela fina!!
DAVID GAUSA presents SUTIL SENSATIONS
23 OCTUBRE 2014 / OCTOBER 23rd 2014

With BRIAN CID as a guest DJ




Disciples 'They Dont Know' - FFRR
Dirty South ft. Sam Martin 'Unbreakable' (SNBRN Remix) - Astralwerks
Nora En Pure 'True' (Mark Lower Remix) - Enormous Tunes
Julio Navas feat. Sitofonk 'Who's That Man' - Moustache
Deadmau5 'The Reward Is Cheese' (Fehrplay Remix) - Rising
Cirez D 'Ruby' - Mousseville


Leer Mas

Siguiente