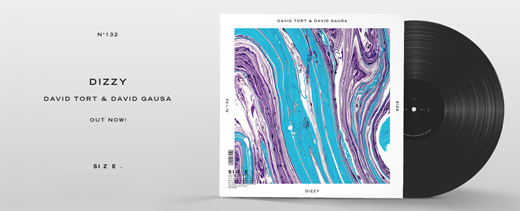 LADIES AND GENTLEMEN, BOYS AND GIRLS ... FINALLY 'DIZZY' BY DAVID GAUSA AND DAVID TORT HAS BEEN LAUNCHED ONTO THE INTERNATIONAL MARKET ON SIZE RECORDS! (07/07/2014)

It has been two years since we began to 'cook' this project, and one year since SIZE licensed it, but finally on July 7, 2014, SIZE RECORDS released 'DIZZY' by DAVID TORT and DAVID GAUSA onto the international market. While DAVID GAUSA has moved closer to the Tech and Deep House side of dance music, the track remains true to his radio show SUTIL SENSATIONS which also features releases made for Big Rooms. The original version of 'DIZZY' didn't have such a melodic breakdown, but was more rhythmic and dirty, and closer to the underground. After the label's suggestion to modify it to fit in better with the style of their releases, it has become more accessible to a wider range of club audiences without losing its quality.



Keep reading for curious facts, support received, audio and video clips... and more! (wallpapers gift!!):


The hype has been growing since STEVE ANGELLO played 'Dizzy' at major festivals and clubs around the world, including EDC - LAS VEGAS (USA) and the SUMMERBURST FESTIVAL, STOCKHOLM (SUEDEN), and this summer 2014 in the biggest electronic festival in the world, TOMORROWLAND 2014 (BELGIUM), and then being published on the SOUNDCLOUD pages of GAUSA and TORT last September. The response has been incredible with impatience growing for the track to be released as soon as possible...






Just after its release, 'DIZZY' entered at #29 on the PROGRESSIVE HOUSE TOP 100 DOWNLOADS on BEATPORT, and four days later it hit the MAIN TOP 100 DOWNLOAD BEATPORT chart. It has been highlighted with a banner in its genre and included in the '10 MUST HEAR CLUB HITS TRACKS - WEEK 28'

The teaser posted on SIZE's SOUNDCLOUD page on July 15 already has nearly 160,000 plays, and the video on YOUTUBE close to 10,000, alongside major support from STEVE ANGELO on his monthly appearances on BBC RADIO 1's RESIDENCY, where 'DIZZY' has been played many times.




Also increasing the pressure surrounding 'DIZZY' with plays on their respective radio shows were many of the world's top DJs including (click on each name to access the playlist + listen.) David Guetta, Tiesto. Afrojack, Chuckie, Daddy's Groove, R3hab, Eddie Halliwell, Thomas Gold, MAKJ..., are among the many other big names which you can check out here...

In the era of blogs and hype-created music through social networks, this project has been highlighted by so many good reactions and reviews on most of the world leading sites such as:

- Dancingastronaut
- Houseplanet
- Earmilk
- Houseblogger (In German)
- Clubstation
- Vicious Magazine (In Spanish)
- Ienlive
- Exqlusiv

... and many more!!




'DIZZY' has undoubtedly pushed DAVID GAUSA and DAVID TORT into the select group of leading international producers, and they are already working on a new track which will be the follow-up single.

To celebrate and as a massive thank you to everyone for their support, you can download a screensaver with a fantastic new design here for your smartphone, tablet, laptop or desktop computer!

You can get with 'DIZZY' on BEATPORT here: http://bit.ly/dizzyonsize
and 'DIZZY' on iTUNES: http://smarturl.it/Dizzy


MANY, MANY THANKS FOR YOU ALL FOR YOUR SUPPORT – IT'S BEEN UNPRECEDENTED!