DAVID GAUSA presents
SUTIL SENSATIONS RADIO / Nº#366
JUNE 14th 2019 (Spoken in Spanish)



Fisher 'You Little Beauty' - Catch & Release
Eli Brown 'Always' - Toolroom
Babert 'Upside Down' - Club Sweat
Brokenears 'No Man' (taken from 'We House' compilation) - Too Many Rules
MK 'Body 2 Body' (Dub Mix) - Area 10/Ultra
Marie Davidson 'Work It' (Soulwax Remix) - Ninja Tune
Gerry Read 'It'll All Be Over' (DJ Koze Remix) - Pampa

Read more...
DAVID GAUSA presents
SUTIL SENSATIONS RADIO / Nº#365
MAY 24th 2019 (Spoken in Spanish)



George Smeddles 'Start The Party' - Resonance
Mat.Joe 'Ya Know' (2019 Mix) - This Aint Bristol
Leftwing & Kody 'I Feel It' - Toolroom
Ten Ven 'Talk To Me' - Positiva
Purple Disco Machine 'Body Funk' (Carl Cox Extended Mix) - Club Sweat
Nora En Pure 'Birthright' - Enormous Tunes
Soul Reductions 'Got 2 Be Loved' - Classic Music Company

Read more...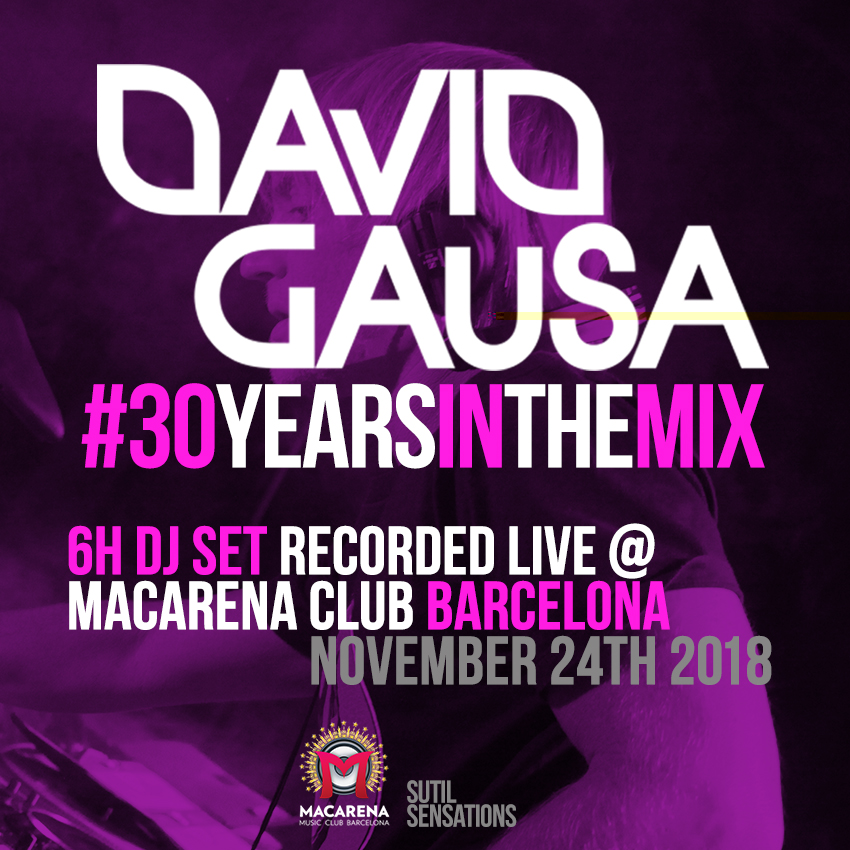 On Saturday, November 24th, 2018, DAVID GAUSA celebrated his 30th anniversary as a DJ performing a 6-hour live DJ set called #30YEARSINTHEMIX - 1988/2018 in the legendary MACARENA CLUB BARCELONA. A session which starts with a selection of great classics, and evolves by merging current sounds with some of the classics that had more influence in him during his career.

As he promised on his radio show, there is a surprise in relation to this DJ mix..., now he wants to share it and make a gift for you!

360 minutes of tremendous #HotBeats and maaaaaaany #CanelaFina (FineCinnamon), definitely a real musical-anniversary journey ;-)
Press play & enjoy!

Listen to it and say what you think on the official DAVID GAUSA's MIXCLOUD page, and if you fancy you can download it below!:




You can also listen to it and leave your feedback on the official DAVID GAUSA's SOUNDCLOUD page:






DAVID GAUSA presents SUTIL SENSATIONS
DECEMBER 29th 2018 (Spoken in Spanish)


#BESTOF2018 - Our personal selection...
#LOMEJORDE2018 - Nuestra selección personal...








THE CLUB WINNERS OF THE YEAR /
LOS TEMAS CLUB GANADORES DEL AÑO
Prospa 'Prayer' - Stress - Track Of The Week on Dec 7th
Denis Sulta 'D_K_Y (But I Do)' - Sulta Selects
Adelphi Music Factory 'Javelin (Calling Out Your Name)' - Weapons/Eton Messy
Mella Dee 'Donny's Groove' - Warehouse Music
Melé 'The Beyonce' - Club Bad
Claptone ft. Ben Duffy 'In The Night'
(taken from 'Fantast' artist album) - Different - Track Of The Week on Jan 26th
PAX 'Electric Feel' - Glasgow Underground
OFFAIAH 'Private Show' - All Fire
Black Coffee & David Guetta feat. Delilah Montagu 'Drive' (Solardo Club Mix) - Columbia
Jack Back '(It Happens) Sometimes' - Defected
Ten Ven 'Just About' (Kideko Remix) - Positiva
Silk City & Dua Lipa 'Electricity' (Ten Ven Remix) - Columbia
Axwell 'Nobody Else' - Axtone
Oliver Heldens 'King Kong' (HI-LO Extended Touch) - Heldeep
Au/Ra & CamelPhat 'Panic Room' - Sony - Track Of The Week on March 23rd

Read more...
Next