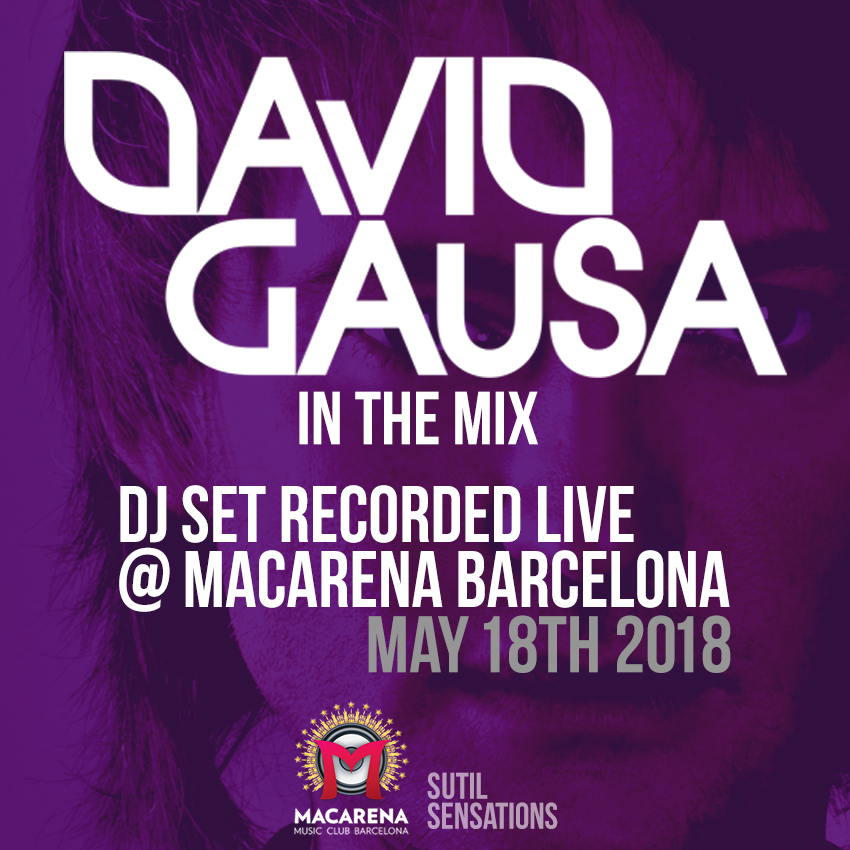 On Friday, May 18th, 2018, DAVID GAUSA performed a live DJ set on a SUTIL SENSATIONS night in the legendary MACARENA CLUB BARCELONA. As he promised on his radio show, there is surprise in relation to this DJ mix..., now he wants to share it and make a gift for you!

5 hours, 14 minutes and 15 seconds of tremendous #HotBeats and maaaaaaany #CanelaFina, definitely a real journey ;-)

Press play & enjoy!



Listen to it and say what you think on the official DAVID GAUSA's MIXCLOUD page, and if you fancy you can download it below!:




You can also listen to it and leave your feedback on the official DAVID GAUSA's SOUNDCLOUD page:






DAVID GAUSA presents
SUTIL SENSATIONS RADIO / Nº#351
JULY 27th 2018 (Spoken in Spanish)

Last show of the season 2017/18!




Junior Jack, Tube & Berger 'E SAMBA 2018' - Kittball
Illyus & Barrientos 'M.E.A.' - Toolroom
Paul Woolford ft. Kim English 'Hang Up Your Hang Ups (The Only One)' - FFRR/Warner Bros.
Moon Boots feat. Janelle Kroll 'Utopia' (Nick Monaco Remix) - Anjunadeep
Alexis Raphael 'You Know That I Love You' - Abode

Read more...
DAVID GAUSA presents SUTIL SENSATIONS
DECEMBER 26th 2017 (Spoken in Spanish)


#BESTOF2017 - Our personal selection...
#LOMEJORDE2017 - Nuestra selección personal...








SOME MAINSTREAM TUNES OF THE YEAR /
ALGUNOS TEMAS MAINSTREAM DEL AÑO
Tchami 'Adieu' - Confession
Duke Dumont & Gorgon City 'Real Life' - Virgin EMI/Astralwerks
Gerd Janson & Shan 'Surrender' - ReGraded
Icarus 'King Kong' - FFRR
Alok, Bruno Martini feat. Zeeba 'Hear Me Now' (EDX & Nora En Pure Remix) - Spinnin'
Calvin Harris feat. Frank Ocean & Migos 'Slide'
(taken from 'Funk Wav Bounces Vol.1') - Columbia

MORE 2017 WINNERS (1) / MÁS IMPRESCINDIBLES DE 2017 (1)
Jamiroquai 'Cloud 9' (Purple Disco Machine Remix) - Virgin EMI
Franky Rizardo 'Same Man' - Defected
Claptone feat. George Kranz 'The Drums (Din Daa Daa)' - Different
Basement Jaxx 'Jump N Shout' (Erik Hagleton Remix) - Toolroom
Greco (NYC) feat. Rowetta 'Be' (Klangkuenstler Remix) - Rawsome
Detlef feat. Ossey James 'Swagon' - Repopulate Mars
Gorillaz ft. Vince Staples 'Ascension' (Nic Fanciulli Remix) - Parlophone
Joe Goddard 'Music Is The Answer' (Hot Since 82 Remix) - Domino
---

Read more...
DAVID GAUSA presents SUTIL SENSATIONS
JULY 28th 2016 (Spanish Edition)


#BestOfSutilSensationsDecade
#LoMejorDeLaDecadaSutilSensations


Last Show of 10th Season / Último programa 10ª Temporada




BEST OF 2007
Djuma Soundsystem 'Les Djins' (Trentemoller Remix) - Get Physical
Pier Bucci 'Hay Consuelo' (Samim Rmx) - Crosstown Rebels
Deadmau5 'Not Exactly' - mau5trap
Pryda 'Europa' - Pryda

Paul Jackson 'The Non-Stop' (David Gausa and David Tort Remixes) - Sutil Records

BEST OF 2008:
Sia 'The Girld You Lost To Cocaine' (Sander Van Doorn Remix) - Doorn/Tiger
Mark Knight & Funkagenda "Man With The Red Face" - Toolroom
MGMT 'Kids' (Soulwax Remix) - Columbia
Deadmau5 Ft. Kaskade 'I Remember' - Mau5trap
Hercules & Love Affair 'Blind' (Frankie Knuckles Rmx) - DFA
Groove Armada 'Love Sweet Sound' - Columbia/Strictly Rhythm
Grace Jones 'William's Blood' (Aeroplane Remix) - Wall Of Sound


Read more...
Next