DAVID GAUSA presents
SUTIL SENSATIONS RADIO / Nº#353
OCTOBER 19th 2018 (Spoken in Spanish)

The second episode of the new season 2018/2019!
Jack Back '(It Happens) Sometimes' - Defected
Gorgon City & NAATIONS 'Let It Go' (Sonny Fodera Remix)
(Original Mix taken from 'Escape' artist album) - Virgin EMI/Capitol
Paul Woolford ft. Kim English 'Hang Up Your Hang Ups (The Only One)' - FFRR/Warner
David Penn 'Nobody' - Defected
Lee Foss & Eli Brown 'Freak You Right' - Nothing Else Matters
The Chemical Brothers 'Free Yourself' - Astralwerks/Virgin EMI
Friendly Fires (co-prod. by Disclosure) 'Heaven Let Me' - Polydor


Read more...
DAVID GAUSA presents
SUTIL SENSATIONS RADIO / Nº#352
OCTOBER 5th 2018 (Spoken in Spanish)

¡The first show of the 13th season!
Welcome to the 2018/2019 season


SUMMER & IBIZA 2018 MUSIC RECAP!




Weiss 'Feel My Needs' (Purple Disco Machine) - Toolroom
Young Romantic 'Move (Time To Get Loose)' - Positiva
Jack Back '(It Happens) Sometimes' - Defected
Mele & Shovel 'Pasilda' (taken from 'Melé In The House') - Defected
Rogue D 'Chains' - Hot Creations
Paul Woolford ft. Kim English 'Hang Up Your Hang Ups (The Only One)'
(CamelPhat Remix) - FFRR

Read more...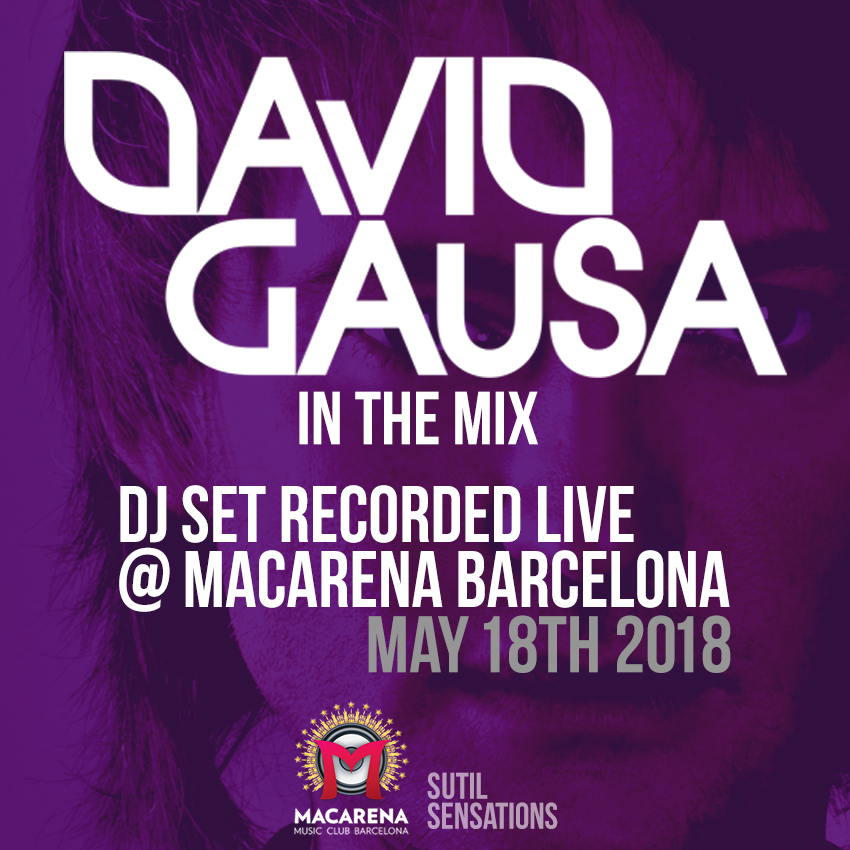 On Friday, May 18th, 2018, DAVID GAUSA performed a live DJ set on a SUTIL SENSATIONS night in the legendary MACARENA CLUB BARCELONA. As he promised on his radio show, there is surprise in relation to this DJ mix..., now he wants to share it and make a gift for you!

5 hours, 14 minutes and 15 seconds of tremendous #HotBeats and maaaaaaany #CanelaFina, definitely a real journey ;-)

Press play & enjoy!



Listen to it and say what you think on the official DAVID GAUSA's MIXCLOUD page, and if you fancy you can download it below!:




You can also listen to it and leave your feedback on the official DAVID GAUSA's SOUNDCLOUD page:






DAVID GAUSA presents SUTIL SENSATIONS
JULY 28th 2016 (Spanish Edition)


#BestOfSutilSensationsDecade
#LoMejorDeLaDecadaSutilSensations


Last Show of 10th Season / Último programa 10ª Temporada




BEST OF 2007
Djuma Soundsystem 'Les Djins' (Trentemoller Remix) - Get Physical
Pier Bucci 'Hay Consuelo' (Samim Rmx) - Crosstown Rebels
Deadmau5 'Not Exactly' - mau5trap
Pryda 'Europa' - Pryda

Paul Jackson 'The Non-Stop' (David Gausa and David Tort Remixes) - Sutil Records

BEST OF 2008:
Sia 'The Girld You Lost To Cocaine' (Sander Van Doorn Remix) - Doorn/Tiger
Mark Knight & Funkagenda "Man With The Red Face" - Toolroom
MGMT 'Kids' (Soulwax Remix) - Columbia
Deadmau5 Ft. Kaskade 'I Remember' - Mau5trap
Hercules & Love Affair 'Blind' (Frankie Knuckles Rmx) - DFA
Groove Armada 'Love Sweet Sound' - Columbia/Strictly Rhythm
Grace Jones 'William's Blood' (Aeroplane Remix) - Wall Of Sound


Read more...
Next