DAVID GAUSA presents
SUTIL SENSATIONS RADIO / Nº#369
OCTOBER 4th 2019 (Spoken in Spanish)

¡The first show of the 14th season!
Welcome to the 2019/2020 season


SUMMER & IBIZA 2018 MUSIC RECAP!




Roberto Surace 'Joys' (Purple Disco Machine Extended Remix) - Defected
Endor 'Pump It Up' - Defected
Solardo / Eli Brown 'XTC' - Ultra
Mark Knight vs Mr Roy 'Something About U' - Toolroom
Patrick Topping 'Turbo Time' - Trick
Paul Kalkbrenner 'No Goodbye' - Columbia/B1 Recordings
Prince Kaybee ft. Msaki 'Fetch Your Life' (Icarus Remix) - Positiva
Rocco Rodamaal feat. Keith Thompson 'Break 4 Love' - Memories
Read more...
DAVID GAUSA presents SUTIL SENSATIONS
JULY 28th 2016 (Spanish Edition)


#BestOfSutilSensationsDecade
#LoMejorDeLaDecadaSutilSensations


Last Show of 10th Season / Último programa 10ª Temporada




BEST OF 2007
Djuma Soundsystem 'Les Djins' (Trentemoller Remix) - Get Physical
Pier Bucci 'Hay Consuelo' (Samim Rmx) - Crosstown Rebels
Deadmau5 'Not Exactly' - mau5trap
Pryda 'Europa' - Pryda

Paul Jackson 'The Non-Stop' (David Gausa and David Tort Remixes) - Sutil Records

BEST OF 2008:
Sia 'The Girld You Lost To Cocaine' (Sander Van Doorn Remix) - Doorn/Tiger
Mark Knight & Funkagenda "Man With The Red Face" - Toolroom
MGMT 'Kids' (Soulwax Remix) - Columbia
Deadmau5 Ft. Kaskade 'I Remember' - Mau5trap
Hercules & Love Affair 'Blind' (Frankie Knuckles Rmx) - DFA
Groove Armada 'Love Sweet Sound' - Columbia/Strictly Rhythm
Grace Jones 'William's Blood' (Aeroplane Remix) - Wall Of Sound


Read more...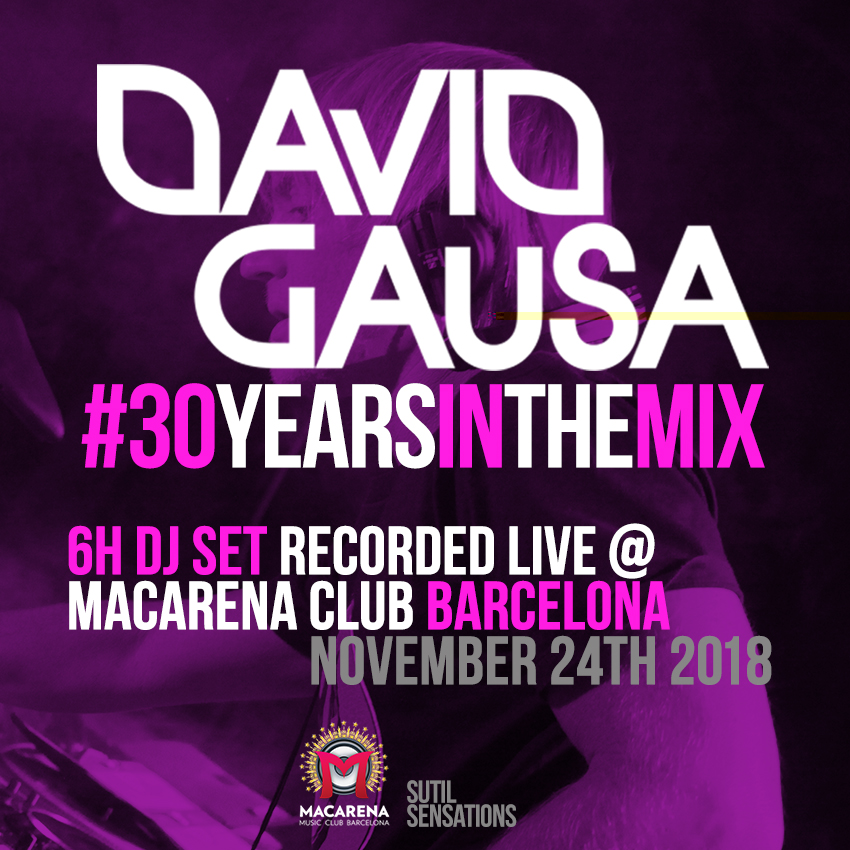 On Saturday, November 24th, 2018, DAVID GAUSA celebrated his 30th anniversary as a DJ performing a 6-hour live DJ set called #30YEARSINTHEMIX - 1988/2018 in the legendary MACARENA CLUB BARCELONA. A session which starts with a selection of great classics, and evolves by merging current sounds with some of the classics that had more influence in him during his career.

As he promised on his radio show, there is a surprise in relation to this DJ mix..., now he wants to share it and make a gift for you!

360 minutes of tremendous #HotBeats and maaaaaaany #CanelaFina (FineCinnamon), definitely a real musical-anniversary journey ;-)
Press play & enjoy!

Listen to it and say what you think on the official DAVID GAUSA's MIXCLOUD page, and if you fancy you can download it below!:




You can also listen to it and leave your feedback on the official DAVID GAUSA's SOUNDCLOUD page:






DAVID GAUSA presents
SUTIL SENSATIONS RADIO / Nº#375
FEBRUARY 7th 2020 (Spoken in Spanish)



HOSH & 1979 ft. Jalja 'Midnight (The Hanging Tree)'
fryhide/ThreeSixZero/Ministry of Sound
Diplo & SIDEPIECE 'On My Mind' - Higher Ground (Mad Decent)
Leftwing : Kody & Camden Cox 'Without You' - Toolroom
Sonny Fodera & Sonickraft Flashbacks - Solotoko/Insomniac
Caribou 'Never Come Back' - City Slang
Will Clarke 'U Take Me Higher' - All We Have Is Now/Good Company
Prospa 'The One' - Rave Science/Geffen


Read more...