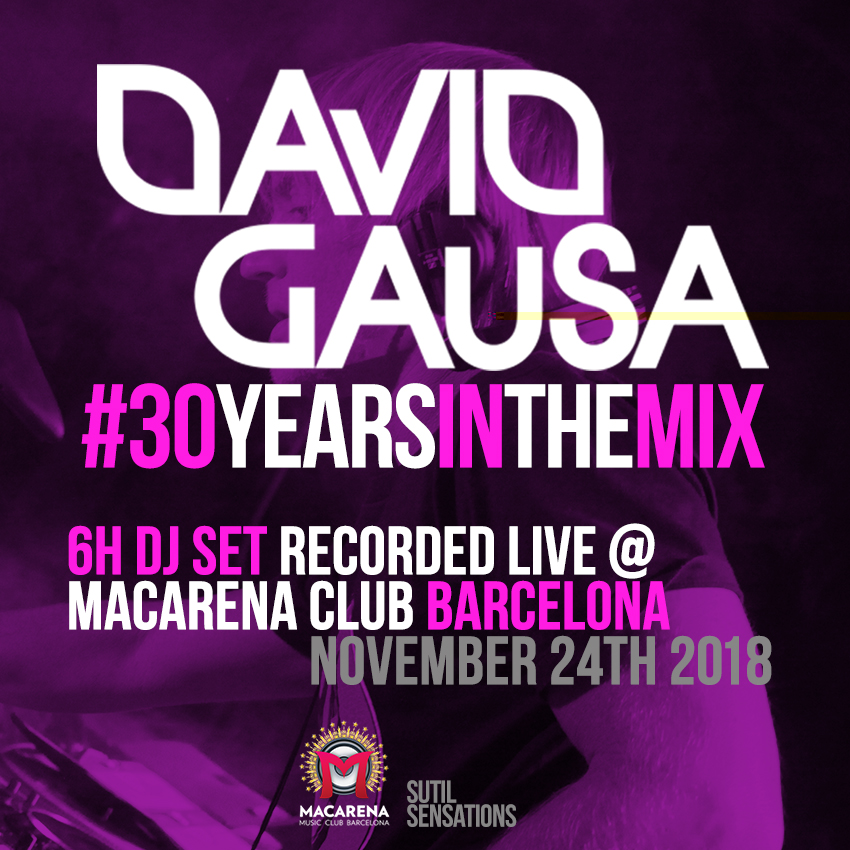 On Saturday, November 24th, 2018, DAVID GAUSA celebrated his 30th anniversary as a DJ performing a 6-hour live DJ set called #30YEARSINTHEMIX - 1988/2018 in the legendary MACARENA CLUB BARCELONA. A session which starts with a selection of great classics, and evolves by merging current sounds with some of the classics that had more influence in him during his career.

As he promised on his radio show, there is a surprise in relation to this DJ mix..., now he wants to share it and make a gift for you!

360 minutes of tremendous #HotBeats and maaaaaaany #CanelaFina (FineCinnamon), definitely a real musical-anniversary journey ;-)
Press play & enjoy!

Listen to it and say what you think on the official DAVID GAUSA's MIXCLOUD page, and if you fancy you can download it below!:




You can also listen to it and leave your feedback on the official DAVID GAUSA's SOUNDCLOUD page:






DAVID GAUSA presents SUTIL SENSATIONS
JULY 28th 2016 (Spanish Edition)


#BestOfSutilSensationsDecade
#LoMejorDeLaDecadaSutilSensations


Last Show of 10th Season / Último programa 10ª Temporada




BEST OF 2007
Djuma Soundsystem 'Les Djins' (Trentemoller Remix) - Get Physical
Pier Bucci 'Hay Consuelo' (Samim Rmx) - Crosstown Rebels
Deadmau5 'Not Exactly' - mau5trap
Pryda 'Europa' - Pryda

Paul Jackson 'The Non-Stop' (David Gausa and David Tort Remixes) - Sutil Records

BEST OF 2008:
Sia 'The Girld You Lost To Cocaine' (Sander Van Doorn Remix) - Doorn/Tiger
Mark Knight & Funkagenda "Man With The Red Face" - Toolroom
MGMT 'Kids' (Soulwax Remix) - Columbia
Deadmau5 Ft. Kaskade 'I Remember' - Mau5trap
Hercules & Love Affair 'Blind' (Frankie Knuckles Rmx) - DFA
Groove Armada 'Love Sweet Sound' - Columbia/Strictly Rhythm
Grace Jones 'William's Blood' (Aeroplane Remix) - Wall Of Sound


Read more...
DAVID GAUSA presents SUTIL SENSATIONS
DECEMBER 29th 2018 (Spoken in Spanish)


#BESTOF2018 - Our personal selection...
#LOMEJORDE2018 - Nuestra selección personal...








THE CLUB WINNERS OF THE YEAR /
LOS TEMAS CLUB GANADORES DEL AÑO
Prospa 'Prayer' - Stress - Track Of The Week on Dec 7th
Denis Sulta 'D_K_Y (But I Do)' - Sulta Selects
Adelphi Music Factory 'Javelin (Calling Out Your Name)' - Weapons/Eton Messy
Mella Dee 'Donny's Groove' - Warehouse Music
Melé 'The Beyonce' - Club Bad
Claptone ft. Ben Duffy 'In The Night'
(taken from 'Fantast' artist album) - Different - Track Of The Week on Jan 26th
PAX 'Electric Feel' - Glasgow Underground
OFFAIAH 'Private Show' - All Fire
Black Coffee & David Guetta feat. Delilah Montagu 'Drive' (Solardo Club Mix) - Columbia
Jack Back '(It Happens) Sometimes' - Defected
Ten Ven 'Just About' (Kideko Remix) - Positiva
Silk City & Dua Lipa 'Electricity' (Ten Ven Remix) - Columbia
Axwell 'Nobody Else' - Axtone
Oliver Heldens 'King Kong' (HI-LO Extended Touch) - Heldeep
Au/Ra & CamelPhat 'Panic Room' - Sony - Track Of The Week on March 23rd

Read more...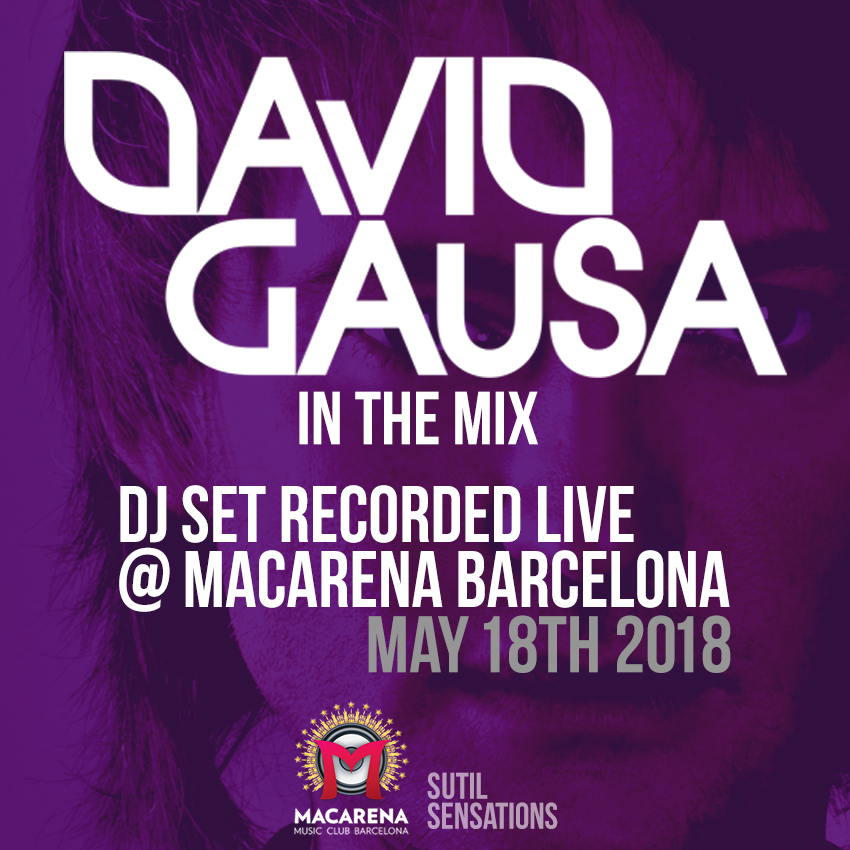 On Friday, May 18th, 2018, DAVID GAUSA performed a live DJ set on a SUTIL SENSATIONS night in the legendary MACARENA CLUB BARCELONA. As he promised on his radio show, there is surprise in relation to this DJ mix..., now he wants to share it and make a gift for you!

5 hours, 14 minutes and 15 seconds of tremendous #HotBeats and maaaaaaany #CanelaFina, definitely a real journey ;-)

Press play & enjoy!



Listen to it and say what you think on the official DAVID GAUSA's MIXCLOUD page, and if you fancy you can download it below!:




You can also listen to it and leave your feedback on the official DAVID GAUSA's SOUNDCLOUD page: