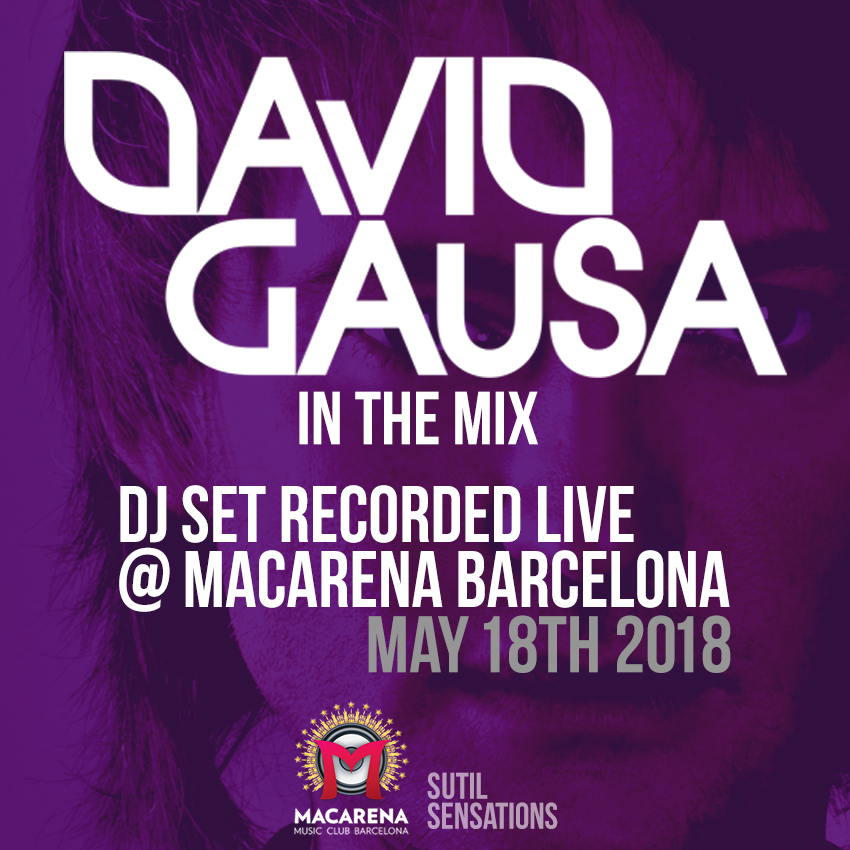 El pasado viernes 18 de Mayo de 2018, DAVID GAUSA realizó un DJ set en vivo en una noche SUTIL SENSATIONS en el legendario MACARENA CLUB BARCELONA. Tal y como prometió en su programa de radio, hay sorpresa en relación a este DJ mix..., ahora quiere compartirlo y regalártelo!

5 horas, 14 minutos y 15 segundos de tremendos #HotBeats y muuuuuuucha #CanelaFina, sin duda un auténtico journey ;-) Press play & enjoy!

Escúchalo y plasma tu comentario a través de la página oficial de MIXCLOUD de DAVID GAUSA, y si lo deseas te lo puedes descargar a continuación!




También puedes escucharlo y dejar tu feedback en la página oficial de SOUNDCLOUD de DAVID GAUSA:






DAVID GAUSA presents SUTIL SENSATIONS
28 JULIO 2016 / JULY 28th 2016

#BestOfSutilSensationsDecade
#LoMejorDeLaDecadaSutilSensations


Último programa 10ª Temporada / Last Show of 10th Season



BEST OF 2007
Djuma Soundsystem 'Les Djins' (Trentemoller Remix) - Get Physical
Pier Bucci 'Hay Consuelo' (Samim Rmx) - Crosstown Rebels
Deadmau5 'Not Exactly' - mau5trap
Pryda 'Europa' - Pryda

Paul Jackson 'The Non-Stop' (David Gausa and David Tort Remixes) - Sutil Records

BEST OF 2008:
Sia 'The Girld You Lost To Cocaine' (Sander Van Doorn Remix) - Doorn/Tiger
Mark Knight & Funkagenda "Man With The Red Face" - Toolroom
MGMT 'Kids' (Soulwax Remix) - Columbia
Deadmau5 Ft. Kaskade 'I Remember' - Mau5trap
Hercules & Love Affair 'Blind' (Frankie Knuckles Rmx) - DFA
Groove Armada 'Love Sweet Sound' - Columbia/Strictly Rhythm
Grace Jones 'William's Blood' (Aeroplane Remix) - Wall Of Sound


Leer Mas
DAVID GAUSA presents
SUTIL SENSATIONS RADIO / Nº#353
19 OCTUBRE 2018 / OCTOBER 19th 2018


El segundo capítulo de la nueva temporada 2018/2019!



Jack Back '(It Happens) Sometimes' - Defected
Gorgon City & NAATIONS 'Let It Go' (Sonny Fodera Remix)
(Original Mix taken from 'Escape' artist album) - Virgin EMI/Capitol
Paul Woolford ft. Kim English 'Hang Up Your Hang Ups (The Only One)' - FFRR/Warner
David Penn 'Nobody' - Defected
Lee Foss & Eli Brown 'Freak You Right' - Nothing Else Matters
The Chemical Brothers 'Free Yourself' - Astralwerks/Virgin EMI
Friendly Fires (co-prod. by Disclosure) 'Heaven Let Me' - Polydor


Leer Mas
DAVID GAUSA presents SUTIL SENSATIONS
26 DICIEMBRE 2017 / DECEMBER 26th 2017

#LOMEJORDE2017 - Nuestra selección personal...
#BESTOF2017 - Our personal selection...








ALGUNOS TEMAS MAINSTREAM DEL AÑO /
SOME MAINSTREAM TUNES OF THE YEAR
Tchami 'Adieu' - Confession
Duke Dumont & Gorgon City 'Real Life' - Virgin EMI/Astralwerks
Gerd Janson & Shan 'Surrender' - ReGraded
Icarus 'King Kong' - FFRR
Alok, Bruno Martini feat. Zeeba 'Hear Me Now' (EDX & Nora En Pure Remix) - Spinnin'
Calvin Harris feat. Frank Ocean & Migos 'Slide'
(taken from 'Funk Wav Bounces Vol.1') - Columbia

MÁS IMPRESCINDIBLES DE 2016 (1) / MORE 2016 WINNERS (1)
Jamiroquai 'Cloud 9' (Purple Disco Machine Remix) - Virgin EMI
Franky Rizardo 'Same Man' - Defected
Claptone feat. George Kranz 'The Drums (Din Daa Daa)' - Different
Basement Jaxx 'Jump N Shout' (Erik Hagleton Remix) - Toolroom
Greco (NYC) feat. Rowetta 'Be' (Klangkuenstler Remix) - Rawsome
Detlef feat. Ossey James 'Swagon' - Repopulate Mars
Gorillaz ft. Vince Staples 'Ascension' (Nic Fanciulli Remix) - Parlophone
Joe Goddard 'Music Is The Answer' (Hot Since 82 Remix) - Domino
---

Leer Mas